Sauvage by Dior is an Aromatic Fougere fragrance for men. Sauvage is in business since 2015. The nose behind this fragrance is Francois Demachy, the flagship creator of the house of Dior. The top notes of this line are Calabrian bergamot and Pepper; the middle notes are Sichuan Pepper, Lavender, Pink Pepper, Vetiver, Patchouli, Geranium and elemi. The base notes are Ambroxan, Cedar and Labdanum. Unleash your inner savage and be the alpha of the pack with Sauvage by Dior. This remix of the 1996 Eau Sauvage is a modern take on the original's fresh, ferocious fragrance. Inspired by the fierce plains and wild open spaces of feral lands, Sauvage would unleash your unruly side with its primal and breezy scent.
The Sauvage collection thus pays homage to the beast that lies dormant in every man. In addition, the visuals of the advertising campaigns are impregnated with wild and rocky spaces and the heat of the night in the desert. A sky in all shades of blue is always present in the background. Straight out of the bottle, Dior Sauvage smells like a fresh, adventurous, spicy, classic man fragrance, but at the same time, it's not something you didn't smell before, so don't expect much in terms of uniqueness. It does smell like a manly, wild, and sexy fragrance, but a lot of people get reminded of Bleu De Chanel, Versace Dylan Blue, and Prada Lunna Rosa Carbon. However, Sauvage has its own uniqueness. If you can imagine classic men's fragrance with a tiny bit of wilderness in it, that's what Dior Sauvage smells like.
Dior Sauvage Collection
In September 2015, Christian Dior released a new, fresh scent named "Sauvage". Little did they know, the cologne would break the fragrance community. In turn, sparking a variety of flankers and clones from major designer brands. Dior Sauvage's initial moments are dominated by a white-out of bergamot and pepper.  The effect comes as a bright flash of sweet, dewy citrus that is both crisp and clean and is supported by an underpinning of freshly-laundered linen sheets flapping noisily in the breeze. The pepper amplifies the volume, lifting the fragrance into the air and diffusing the notes, twirling them actively to ensure that they feel vivid and enveloping.  In the opening especially, one gets the impression that Sauvage is a fragrance designed to resonate with many modern men, whether they be wild or not, by utilising familiar materials and juxtaposing them with cleanliness and depth.
The Original Dior Sauvage E.D.T
The original and arguably least offensive of the bunch, the Eau de Toilette version of this crowd killer is a modern classic. With a heavy foot, Sauvage releases prominent notes of Citrus and Floral into the air. With the use of an array of Floral notes, powerful Sichuan Pepper and Pepper don't ambush the nose. Rather, the nose is filled with an inviting and clean aroma. The EDT produces about 6-8 hours of longevity and has a moderate to loud projection.
The fragrance is available in 30ml, 60ml and 100ml sizes. As well, Dior offers 200ml and 250ml refill bottles. Overall, you will be addicted to how refreshed you feel after smelling this scent. Although some say the EDT gives them a headache.
Dior Sauvage Very Cool Spray
Chronologically, the next version of Sauvage is the Very Cool Spray. This alternative to traditional cologne bottling features an Axe body spray aesthetic. But, Dior emphasizes the use of an air-based pressure system that does not give off an aerosol aroma.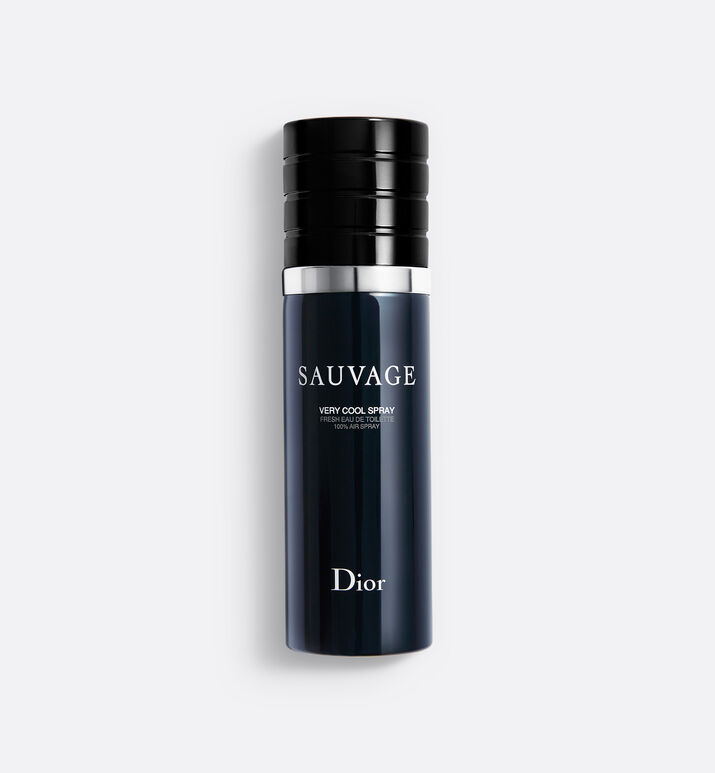 The fragrance is meant to smell refreshing and feel cool against your skin, with a hint of grapefruit added. The general consensus among the crowd has been that the aroma is fairly similar to the EDT but has a more summery vibe. The note breakdown remains largely constant throughout, and it is noticeable during the dry down. Unless you want to feel the additional chilling impact, Very Cool Spray is unnecessary compared to the basic release. Very Cool Spray is available in a 100ml size but is warned, the atomizer projects a long-lasting spray that might drench you upon application.
Dior Sauvage EDP
Next in the line is the Dior Sauvage Eau de Parfum. It is available in 60ml, 100ml and 200ml sizes. With additional Woodsy and manly accords, this flanker of Sauvage features a much more spicy and gentlemanly approach to the previously fresh takes. The use of Sichuan Pepper drives the fragrance home as it dominates the lack of Floral and Fresh notes.
As the Sichuan is with Star Anise and Nutmeg, the scent transforms into superstardom. The EDP is widely known for being used in any situation or for any occasion. The concentration of spice mixed with a loud projection makes for a perfect option when clubbing. It can also be refined enough to be worn to work.
Dior Sauvage Elixir
The worldwide success of the previous opus, Sauvage Parfum, gave Dior the idea of ​​creating an even more concentrated scent. Indeed, Sauvage Elixir breaks out of the ranks of traditional perfumery and offers a unique fragrance. Its ultra-concentrated formula brings an extra touch of masculinity to the Dior man. The latter is thus able to captivate all the people he meets as the composition of this essence is original and sensual. The sweet, spicy and warm scent that emerges from the new Sauvage Elixir perfume by Dior is both fascinating and sensual.
The haute couture house wanted to again pay tribute to men and their virility. This is by the famous perfumer François Demachy, the flagship creator of the house of Dior. At first glance, the bottle of the new Sauvage Elixir perfume seems sober and minimalist.  However, by detailing it, it is possible to notice many details that make this container a real collector's item. Its air of a small vial is intriguing and recalls the powerful concentrate of the juice it contains.
The midnight blue lacquered glass bottle offers 60 ml of perfume, which is a rare format in the world of perfumery. The name of the fragrance as well as that of the house appears in silver letters on the front of the bottle. The black cap proudly displays the initial CD for Christian Dior. Here's a stylish nod to the famous couturier and his haute couture company.
Dior Sauvage Parfum
After the freshness of the eau de toilette, and then the sensuality of the Eau de Parfum Sauvage, the latest version of the range boasts a highly concentrated composition. Farewell to the desert sun of the original version and the magic hour of the EDP, place today at the depth of the starry night. In reality, the new Sauvage perfume is in this bluish environment to reflect its enigmatic and profound wake. It accurately captures the first stirrings of a simmering fire's aromas.
The iconic bottle of the Sauvage range is geometric, rectangular lines and its blue colour are indeed back. Sober and refined, it showcases the Dior style. The thick glass of its bottle displays a superb midnight blue gradient which lights up at its base with an incandescent orange-red like the reflection of the moon. Then a magnetic lacquered cap elegantly completes the design. An impression of power and masculinity emerges from this bottle. On this the name of the perfume is in capital white letters. This case also reflects the Dior man, both sensual and virile. Its wild charm even gives it a seductive side in its raw state, like Johnny Depp, the first muse of this now unavoidable bestseller.
Dior Sauvage Price
The Sauvage collection from Dior comes into various sizes and prices. The original edp is available in 4 sizes. You can find the fragrance in 30ml, 60ml and 100ml sizes. As well, Dior offers 200ml and 250ml refill bottles The price range for this product is 7800 (for 60 ml) to 10,900 ( for 100 ml) and 18775 ( for 200 ml). You can buy these products at any Dior store or even online. However, be careful while purchasing online as there are many similar versions of the product available in the market.
Dior Sauvage Clone
Over the past five or so years, Dior's Sauvage EDT rose to become one of the most popular men's fragrances, if not the most popular. It's incredible how commonplace this aroma has almost become. Once a cologne becomes so well-known, it will undoubtedly inspire new scents that smell similar to it or are pretty much an exact clone. Let us take a look at some of the perfumes that are a perfect alternative for the Dior Sauvage and are friendly for your pocket.
F Armaf Ventana Pour Homme Eau De Parfum
Ventana by Armaf is a great fantastic, reasonably priced option if you want something affordable. Although Ventana has a spicy quality to it, it doesn't have the same level of pepper acridity as the Sauvage. This Armaf opens with a fruitier aroma and a good amount of lavender. You also get grapefruit and a light mandarin, with woody notes, and a weaker amber.
Ventana has excellent performance but isn't quite the sillage beast we're aiming to replace. Additionally, within the first hour, it smells very very close to Sauvage. However, it is all for less than $30. Therefore,  Ventana is a more muted and mellow fragrance than Sauvage EDT. It is a very good option to go for if you want an exact replica of the Sauvage at a low price.
La Rive Extreme Story For Men Eau de Toilette
With its low cost, Extreme Story has a lot going for it. Normally, this one sells for roughly $10. Just to be clear, this isn't as good as Dior. Just to be clear, this isn't as good as Dior. However, it is also not as bad as you might think. Actually, the citrus notes in it are less sharp and the Sichuan pepper doesn't give it as much of a punch. It does still have plenty of spice, just in a different variety.
This is mainly cardamom. This La Rive cologne is fresh and has a cleaner floral/soapier aroma than the more expensive designer scent. This is because of the Geranium, lavender, and vetiver notes in it. The overlap is going to mostly be in the lavender and citrus notes, add spices/freshness and you've got something pretty close.
Ajmal Kuro for Men Eau de Parfum Spray
The brand Ajmal is well known due to some of their women's releases that closely resemble well-known scents. This one does not replicate Sauvage that much but it's got a hint of that. The citrus notes are brought way down in comparison. It's like Sauvage without much of its citrus, and more focused on freshness. Therefore, geranium is pretty strong here, woodier, but with a nice hint of lavender. The perfume lasts for around solid 6 hours and it only runs about $25 currently. Kuro is definitely worth a shot if you are looking for an alternative.
Dior Sauvage Johnny Depp
Johnny Depp has been Dior's face for more than 5 years now. The actor has been the face of Dior Sauvage's men's collection since 2015. When Depp brought a defamation suit against Heard in 2019  alleging that she defamed him by describing herself as a victim of domestic abuse in a 2018 Washington Post op-ed film franchises such as "Fantastic Beasts" and "Pirates of the Caribbean" ended their professional relationships with the actor. However, Dior did not terminate Depp's brand ambassadorship, according to The New York Times.
Although, the fashion brand "did limit its presence and connection with the 'Pirates of the Caribbean' actor during the height of the abuse allegations."The actor has spent most of 2022 in the headlines, having been involved in a high-profile defamation trial against his ex-wife Amber Heard, which he won. Having won that trial and having charmed the audience during it, the Wall Street Journal noted that sales of the Dior fragrance had increased at the time of the trial. Having cleared his name and having returned to the limelight, it makes sense that Dior would want to keep working with the actor.
F.A.Qs
Does Dior Sauvage smell good?
Ans. Its notes of Bergamot, cedar, and lavender are what make it the well-known perfume it is today. There's Ambroxan in it as well, so it feels like it has a weight and woodiness to it. Overall, it's a fresh, spicy sort of scent you won't get enough of. The Dior EDT is also widely enjoyed by men and women alike.
Is Dior Sauvage really good?
Ans. It's an absolute beast in terms of longevity and it also has loads of projection, projection even 4-5 feet around you constantly. If you want every one to smell your presence when you walk into the room, then you will make no mistake doing it with Dior Sauvage.
When to Wear Dior Sauvage?
Ans. Dior Sauvage is a very universal fragrance, so saying that you can wear it during the day or at night when going out. It works beautifully on hot summer days, but also it keeps its performance in the cold wintertime. Most people said they love to wear it in the office, but don't limit it to just the office fragrance. Dior Sauvage will fit perfectly if you have a date with someone you want to impress.
How Many Sprays of Dior Sauvage are Enough?
Ans. Dior Sauvage is a very potent perfume, so 2-4 sprays should work just fine and should be enough. Get 2 on the sides of the neck, and if you want it to keep the smell longer on you, spray 2 more times on your chest or shoulder.
Can I wear Dior Sauvage every day?
Ans. If you're looking for an everyday scent that you can wear to work or out on dates, then Dior Sauvage is definitely worth considering. It's a versatile fragrance that smells great and performs well in most situations.